Almost half of English people more suspicious of Muslims as a result of recent terror attacks, study finds
'Worrying' report shows a quarter of English people believe Islam is a 'dangerous' religion, but overall England is becoming more tolerant and open
May Bulman, @maybulman
The Independent Online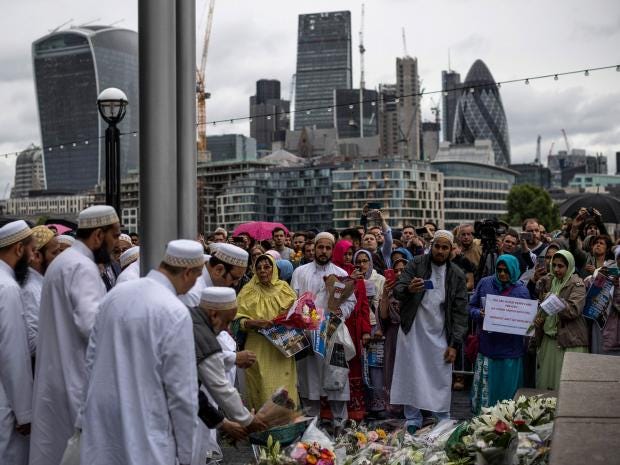 Members of the Muslim community lay flowers after attending a vigil for the victims of the London Bridge terror attacks.
More than four in 10 people in England are more suspicious of Muslims as a result of recent terrorist attacks, despite the country becoming more tolerant and open overall, according to a major new study.
Figures reveal that following recent incidents in Westminster, Manchester and Borough Market, 42 per cent of people have less trust for Muslims in Britain, while more than half (52 per cent) believe Islam is a threat to the West.
A quarter of English people also believe that Islam is a dangerous religion that incites violence, with older people more prone to expressing Islamophobic views, according to the Populus poll, published in a report by campaign group HOPE not Hate.
The increase in negative attitudes towards Muslims comes despite an overall improvement in attitudes among Britons towards different groups in society, with the report also finding that two-fifths of the population (39 per cent) have a liberal outlook – compared with 22 per cent six years ago.
The study, which asked more than 4,000 people in England 140 questions relating to current events, shows that despite the nation becoming more open and tolerant as a whole, responses to Brexit have left Britain more divided, with attitudes towards race and faith becoming increasingly polarised since the last poll in 2011.
But it noted more positive views towards immigration since Brexit, with more than half of respondents saying they believed immigration was good for the country – up by 15 per cent since 2011. Economic concerns over the issue were most important for the hostile tribes, while liberals focus more on the positive effects of cultural diversity, the report found.
With regards to political leanings across England, the poll found that the discrepancies in the views of different age groups remain vast, with more than half (54 per cent) of respondents aged 18-25 saying Jeremy Corbyn best represents them, while just 18 per cent of those over 65 said the same.
Meanwhile, 14 per cent of young people said Theresa May represented their views, compared with 45 per cent of the older demographic.
Overall, trust in the Prime Minister to deliver a good deal for leaving the EU was low, with more than six in 10 (62 per cent) respondents saying they had "little or no confidence" in Ms May getting a good Brexit deal, and just 6 per cent saying they were confident that she would secure a good deal for Britain in the EU negotiations.
In light of the increase in suspicion towards Muslims, Rosie Carter, co-author of the report, told The Independent: "The picture we got from the report is worrying. It shows that this is a country that's quite tense and there's a lot of concern about differences.
"These negative attitudes improved quite a lot between 2011 and 2016, but we've seen a reverse in the past year. And it's very divided: among the most liberal group 84 per cent would reject the association of Muslims with extremism, but around the same proportion of the least tolerant group would say that association is OK."
The findings in the report reflect a rise in attacks on minority groups over the past year. FOI figures obtained by The Independent revealed hate crimes involving racial and religious discrimination soared at an unprecedented rate in the year after the Brexit vote, surging by 23 per cent – from 40,741 to 49,921 – compared with the same period the previous year, marking an unparalleled rise.
Ms Carter added that, despite a "liberal surge" following Brexit, there had been a "hardening" of attitudes that needs to be addressed, saying: "The key finding of the report was this polarisation in society. Where there's been a liberal surge after Brexit, attitudes have hardened as well.
"The response to the recent terror attacks have generally been a sense of togetherness, with the majority of Britons welcoming acts of unity. But while there is definitely this appetite, there is a stark division, which needs to be addressed."
To collate the findings in the report, Populus interviewed 4,015 adults aged 18 and above in England between 30 June 2017 and 4 July 2017.